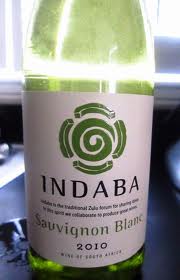 Dying for a night in, I very happily curled up on the sofa with a movie, crusty French bread and brie and of course wine. What would a weekend night in be without wine? It is a serious question! It would be dull, that's what.
The Indaba Sauvignon Blanc is relatively clear in color with a slight greenish hue. On the nose it is fresh and clean with subtle hints of pears and tang of grapefruit. On the palate it is just lovely, smooth and full of green fruit flavors of apple, pear, kiwi and gooseberry – really nice. A very nice finish, which meant a very happy Friday.
According to Cape Classics, importers of South African Wines…"Indaba" is the Zulu word for "a meeting of the minds," or a traditional gathering of tribal leaders for a sharing of ideas. The brand was created as a celebration of the democratization process in South Africa, and from its inception, the wines have conveyed the spirit of South Africa to American consumers. A portion of the proceeds from the sales of Indaba wines supports a scholarship for financially needy and academically deserving students who are interested in wine-related careers. Through growth of the brand and via the affiliated scholarship, Indaba is proud to be a part of the positive changes that are altering the face of South Africa's wine industry."
I also enjoyed this wine with the Chicken Tikka Masala I made on Saturday – it was a perfect combination of spicy food and a clean crisp Sauvignon Blanc.
Unbelievable value at $8!
My rating…