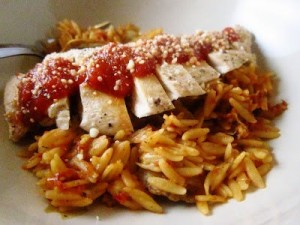 What's not to love about all these ingredients… chicken, artichokes, sundried tomatoes and cheese. Put them altogether and you get an amazing, healthy dish that tastes and looks awesome.
Found on one of my favorite sites for healthy eating, eatingwell.com, this recipe called for artichoke hearts, but I absolutely love these baby Guadiano Roman Artichokes I found at the South End market this summer and have been buying and using them in recipes ever since.
I honestly have not made a dish that tasted this good in ages. I highly recommend it.
Chicken & Sundried Tomato Orzo
Adapted from an EatingWell.com recipe
Serves 3-4
Total Prep & Cook Time 45 minutes
Ingredients
8 ounces orzo
1 cup water
1/2 cup chopped sun-dried tomatoes, drained and chopped
1 garlic clove – crushed
1 teaspoons dried fresh marjoram, divided
1 tablespoon red-wine vinegar
2 teaspoons plus 1 tablespoon extra-virgin olive oil, divided
3 boneless, skinless chicken breasts
1/4 teaspoon salt
1/4 teaspoon freshly ground pepper
1/2 jar of baby artichokes
1/2 cup finely shredded Romano cheese, divided
Directions
Cook orzo in a large saucepan of boiling water until just tender, 8 to 10 minutes or according to package directions. Drain and rinse.
Meanwhile, place 1 cup water, 1/4 cup sun-dried tomatoes, garlic, 1 teaspoons marjoram, vinegar and 2 teaspoons oil in a blender. Blend until just a few chunks remain.
Season chicken with salt and pepper on both sides. Heat remaining 1 tablespoon oil in a large skillet over medium-high heat. Add the chicken and cook, adjusting the heat as necessary to prevent burning, until golden outside and no longer pink in the middle, 3 to 5 minutes per side. Transfer to a plate; tent with foil to keep warm.
Pour the tomato sauce into the pan and bring to a boil. Measure out 1/2 cup sauce to a small bowl. Add the remaining 1/4 cup sun-dried tomatoes to the pan along with the orzo, artichoke hearts and 6 tablespoons cheese. Cook, stirring, until heated through, 1 to 2 minutes. Divide among 3-4 plates.
Slice the chicken. Top each portion of pasta with sliced chicken, 2 tablespoons of the reserved tomato sauce and a sprinkling of the remaining cheese.

Next time I will definitely make double the sauce. One because it is so good but two because you really do need more to top the chicken than just 1/4 cup.