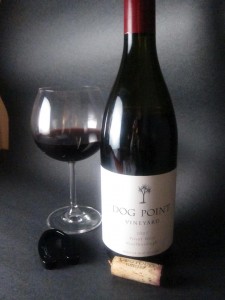 Every now and then I come across a wine that really catches my attention and gets added to my permanent must have list. The Dog Point Pinot Noir 2007 is one of them. When buying wine just for me, I try to stick with an under $25 price point unless I am treating myself to a favorite and familiar. A friend suggested I do a review of the Dog Point Pinot Noir and I am glad I did. A little more in price at $30 but absolutely worth it.
Tawny with a light almost transparent ruby red color. Spicy and peppery, somewhat earthy with a hint of chocolate on the nose – a lovely aroma. Very light on the tongue but with a sharp thrill of sweet slightly syrupy prunes. It doesn't stay on the palate too long but has a brusque nice finish.
I am excited to buy this wine again and pair it with a duck dish. Sounds good right?
The Dog Point Winery makes a really good Pinot Noir. Lovers of lighter reds will rejoice in this wine.
My rating…