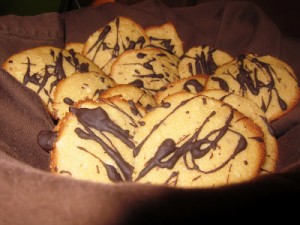 I am not really a big fan of cookies. I know I know almost sacrilegious right? They are just not my thing. It's not that I won't have a bite of one every now and again; I just don't choose to buy them and can easily walk past a big tray of cookies beckoning to be eaten.
My friend, Lauren bought me a couple of the William Sonoma cookbooks, which I love by the way, and one of them was the cookies recipe book. What's wonderful about this particular cookbook is that not all the recipes are for traditional cookies, which makes it appealing to me. One in particular caught my eye for Almond Crisps Drizzled with Chocolate. I love almonds and I do like chocolate so I thought I would try out this recipe.
Almond Crisps Drizzled With Chocolate
From the Cookies Cookbook – William Sonoma
Ingredients
1/2 cup unsalted butter, at room temperature
1 cup firmly packed light brown sugar
1 large egg
1 teaspoon vanilla extract
1/4 cup all-purpose flour
1 teaspoon baking powder
1/2 teaspoon salt
1/2 cup chopped almonds
4oz Chocolate. I used the Brix amazing dark chocolate I bought from the Boston Wine Expo. This chocolate is amazing!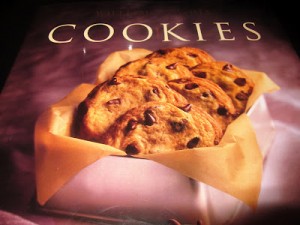 Directions
Preheat the oven 350 F and have ready 2 ungreased baking sheet.
In a large bowl, using electric mixer on high speed, cream the butter until it is fluffy and pale yellow. Add the brown sugar and continue to beat on high speed until the mixture is no longer gritty when rubbed between your finger and thumb. Add the egg and extract and beat on low speed until blended.
Sift the flour, baking powder, and salt together into a bowl. Add to the butter mixture and mix on low speed or stir with a wooden spoon until well blended. Stir in the almonds.
Drop the batter by teaspoon onto the baking sheet, spacing the cookies at least 2-3 inches apart. Bake until the edges turn golden but the cookies are still soft, about 5 – 7 minute. Let the cookies cool on the pans on wire rack for exactly 5 minutes before carefully transferring them to the racks to cool completely.
Melt the chocolate in a microwave for about 45 seconds. Remove from the microwave and stir until the chocolate is completely melted.
Using the tines of fork, drizzle the chocolate on the top of a cooled cookies and let cool until set, about 1 hour. I drizzled a lot more chocolate than the recipe called for!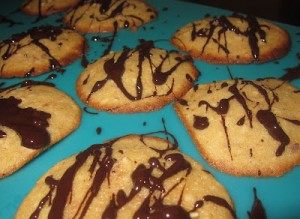 These cookies are absolutely delicious. Not too sweet and perfect with the little taste of dark chocolate and a strong cup of coffee.