Here's to the corkscrew – a useful key to unlock the storehouse of wit, the treasury of laughter, the front door of fellowship, and the gate of pleasant folly – W.E.P. French
For this week's Wine Wednesday I thought I would share some wine gadget ideas – from the very simple to the totally fun.
Vacu Vin Stainless Steel Vacuum Wine Saver
With the sound of a simple click, the Vacu Vin stainless steel wine saver is a vacuum pump, which extracts the air from the opened bottle, clicks when you've reached optimum level and re-seals the wine bottle with a re-usable rubber stopper. The vacuum slows down the oxidation process so that you can enjoy your wine for days.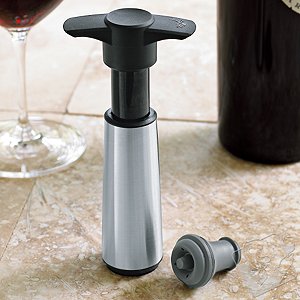 Pamper your wine before its big opening. Ensure the star of your party is cool, refreshed, and ready to please by giving it a "bath" first! Fill this glazed ceramic tub with ice and give your wine some quality time to chill.
Four functions, one amazing invention. Danish designers combine an aerator, filter, non-spill pourer, and stopper into one do-it-all instrument the size of a fountain pen. Just insert the Nuance Wine Finer Aerator into your bottle and pour. Wine flows through 32 aeration vents while an inner stainless steel screen filters out sediment and cork. Stand your bottle upright and the pourer catches any drips. Top your Wine Finer with the stopper to enjoy a glass later.
Watch the dramatic cascade of wine on the decanter walls as you empty an entire bottle. Acidity and bitterness evaporate as your wine flows, allowing taste and aroma to fully develop. If you prefer the romance of serving wine (particularly a high-end wine) from its original bottle, you can return the wine from the decanter to your bottle using the Wine Breather adaptor. You can also serve straight from the decanter. The choice is yours.
Chill wine from the inside. Corkcicle is an easy way to chill wine without having to tote an ice bucket. Simply open your pre-chilled wine bottle, pour out just a sip's worth to avoid overflow, and insert the pre-frozen Corkcicle. Remove the Corkcicle from the bottle prior to pouring. Hand wash and re-freeze for next use.
Electric Blue Bush Button Corkscrew
A wine opener as entertaining to watch as it is easy to use. See the blue light shine through the action window as the cork is smoothly extracted from your bottle and released—with a simple press of a button. The blue light doubles as a nightlight when the corkscrew is recharging.
With its portable ease, this sleek bag gives boxed wine a good name. Stylish and sturdy, this carrier keeps your fine wine fresh at dinners, parties and picnics. It comes with a non-slip rubber base and a comfortable handle for easy transport. An airtight spout fits all standard taps, and its adjustable interior is roomy enough to slip an ice pack (or three) to chill white wines.
Alltemp Digital Wine Thermometer
Want to know the exact temperature of your wine? Just place against the bottle and press the button! AllTemp uses infrared technology to determine the temperature to the nearest tenth of a degree.
A fun and distinctive tasting kit for your next party! Six numbered bags with scoring pad included. Conduct your very own blind taste testings!
Aerate wine in seconds for better taste. The Vinturi Red Wine Aerator is clearly on the cutting edge of wine aerating. Mixing just the right amount of air with your wine at the precise moments, this see-through aerator allows your reds to breathe instantly. The Vinturi Red Wine Aerator results are a better bouquet, enhanced flavor, and a smoother finish.
An invaluable addition to any in-home bar, the handheld unit features a patented four-wheel system with unique blades that quickly and easily strip the foil crown from any wine bottle. The one-step foil cutter–which requires no more than a quarter turn of the wrist–releases foil cleanly, without loose strands or bits that could fall inside the bottle and contaminate the wine after opening.
I am adding quite a few of these to my already quite large wine gadget collection.