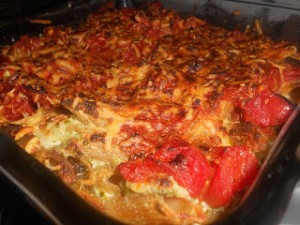 My plans for a night out last Friday were sadly cancelled. I took this opportunity as a guilty pleasure to stay in and enjoy some movies with dinner and glass of wine. It is funny that going out used to be my guilty pleasure and now it is staying in. I had obviously not even thought about what I would do for dinner so I had to get my thinking hat on. I had some pesto that I had purchased at Lara's Cuisine stall in

SoWa

that was in need of dish. I have a large pile of pasta cookbooks so concocted something based on a couple of recipes.
Whole Wheat Pasta Bake
Ingredients
8oz Whole Wheat penne Pasta
2 tbsps extra-virgin olive oil – again I used the Aberquina California Olive Ranch which I am now a huge fan of
1 garlic clove – crushed
1 can crushed Italian tomatoes
1 tbsp dried basil
Salt and pepper
1 cup pesto sauce
1 cup ricotta cheese
1/2 cup grated Parmesan
1/2 cup grated mozzarella
Directions
Boil pasta to al dente per box instructions.
Heat olive oil in a large skillet. Add garlic and sauté for about 5 minutes.
Add the tomatoes to the garlic and stir. Cook on high until the tomatoes start to bubble then reduce the heat under the sauce to low. Stir in basil and season the sauce with salt and pepper, to taste.
Preheat your broiler to high and place a rack in the center of the oven.
Drain pasta and add them to the bottom of a dish. Add pesto sauce, ricotta and a ¼ cup of parmesan. Coat the pasta with the pesto and cheeses. I love the flavor that pesto adds to a pasta dishes. Mixed with ricotta and tomato makes it even more wonderful. "Pesto is a sauce originating from northern Italy and traditionally consists of crushed garlic, basil and pine nuts blended with olive oil and parmigiano reggiano."
Pour the tomato sauce over the pasta. Sprinkle the dish with the grated mozzarella cheese and add the final ¼ cup of parmesan.
Place the dish under the broiler in the middle of oven for about 8-10 minutes.
Serves 3-4 depending on your appetite.
Delicious pasta with creamy ricotta, salty cheesy pesto and the sweetness of tomatoes and lots of extra cheese. I didn't have any onion but with a little onion sautéed with the garlic this would be even better. After two bowls I was really not complaining.
Easy, tasty and even better with a glass of Cabernet!