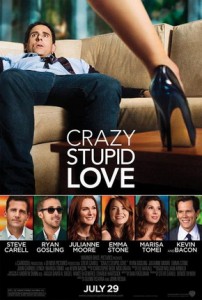 On Saturday night I went to the movies with my friend Marcella for what I thought would be a light romantic comedy, however, what I watched was something refreshingly different. Of course it was still a little bit of a RomCom cliché of boy meets girl, boy loses girl, boy gets back with girl, only who is in love with who is part of the sweetness and comical side of this movie. I thought it was a wonderful, enchanting and moving movie about Crazy, Stupid, Love!
With a cast of Steve Carrell, Julianne Moore, Ryan Gosling sporting the most amazing abs I have seen in a long time, Emma Stone, who seems to be in every movie lately, and a small role for Kevin Bacon and Marisa Tomei, this movie has a cast to make a truly good film – and it does! Every actor plays their role to perfection.
While it does have all the ingredients of a classic romantic comedy, it did have something extra, which was a poignancy and something that tugged at little at the heart strings. Steve Carrell plays the lead role of Cal, a man who was married at a very young age to his "soul mate." Fast forward to 25 years later and she (Julianne Moore) is asking for a divorce.
Cal meets up with Jacob (Ryan Gosling) while drinking away his pain at a bar. Jacob takes pity on him and decides he is going to help him with the opposite sex and ultimately make his wife want him back. There is an amusing scene with Marissa Tomei as the first woman Cal tries to pick up.
Ryan Gosling is dapper and enigmatic as a womanizing, shallow male who night after night only wants to chat up and sleep with woman. He has all the right moves and all of them work; even the cheesy and quite bad pick up lines. This does actually make for a truly funny scene with Emma Stone as the "game changer" for him in the movie. Emma Stone by the way is adorable.
The true scene-stealer though of this movie is Cal's son, Robbie, who is in love with his babysitter and this does make for a few cringey and amusing scenes.
A few critics have slated this lovely little movie. I say, take it for what it is, which is ultimately, a sweet movie with mild twists and turns that sucks you in from beginning to end. I love Steve Carrell, so seeing a movie with him in it can never be that wrong in my book. Think Dan in Real Life and you will get where I am coming from. It really does get across how crazy and stupid love can be. I liked it! Go see it.