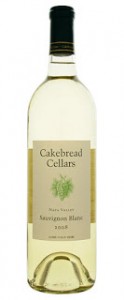 One of my favorite wineries in Napa is Cakebread. It's not just that they produce amazing wines, they build relationships. Everyone that works there is friendly, knowledgeable and helpful. I know this goes with the territory of selling wines but the Cakebread folks seem to take it a little step further.
I am now on their email list and love my monthly emails with recipes that they send. It's more than just about the wine and I, for one, feel like I am part of their extended, very large wine family. I just wish MA would change the rules of allowing wines to be shipped to the State… that way I could not only be on their mailing list, but on their shipping list as well!
After a long and busy work week, I decided to go for a workout and then home for a night in of TV viewing and to open another bottle of wine from my little collection I have from my trip to Napa. It is amazing how I can get excited these days about doing absolutely nothing and not feel guilty about it at all.
Last night, Kathleen and her broken foot came over to join me in a little TV viewing and a catch up on the week. For our drinking pleasure I chose a 2008 Cakebread Sauvignon Blanc.
The Sauvignon Blanc is very pale gold, almost completely transparent in color. The first nose is sharp and a little offensive, a bit like cat pee that had dried out. Sounds awful right? Just give it a minute and it settles into an aroma of gooseberry tart and granny smith apples. On the palate it is again quite sharp and tart initially and then becomes a little smoother and quite mouth-watering with flinty, mineral tones. The wine is full-bodied and opens up into a plethora of fruits from melon to passion fruit and lemon and lime. It has a wonderfully long and gratifying finish.
This is a spirited wine that should be enjoyed with friends and laughter and perhaps a light, fresh pasta dinner.
At $29.99 this wine is worth every penny.
My rating…