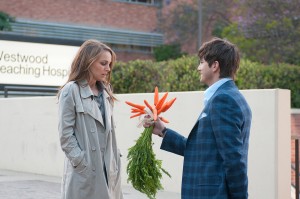 In the latest of RomCom movies, No Strings Attached has a nice twist to the boy meets girl typical script. This movie has been slated by critics but I actually quite enjoyed it and giggled throughout. I am probably not the best critic of romantic comedies, as I do love them all :). At least most of them!
A far cry from her role in Black Swan, Natalie Portman plays Emma, a young resident doctor who is emotionally scared and has serious commitment issues and doesn't really get relationships. Ashton Kutcher plays Adam – cute and adorable as an incurable romantic who you cant help but root for throughout the movie. Of course, as with all romantic comedies, the sidekicks are key to the making or breaking of the movie, and the group of friends, including Ludacrus, Kevin Kline and Lake Bell, did not disappoint with funny one-liners and remarkably "dirty" gross-out jokes that would make anyone go a little red. One thing I will share and probably the funniest and cringiest part of the movie is when Adam makes a "menstrual mix CD" for Emma with songs like "I've Got the World on a String" and "Red Red Wine."
I am not sure about the chemistry between Natalie and Ashton but I do like them individually in these roles. Natalie is very funny and quite dry playing her character and she has marvelous lines that she nails. You have to laugh when she is driving and crying eating donut holes and singing "Bleeding Love" – a song from the mix CD. And, I have to say there is nothing wrong with seeing Ashton's bottom as he tries to get from one room to the next without his clothes on and just a cloth to cover his private parts.
There are a couple of side stories to the main plot line, which help the movie along and adds a little more substance to it. Adam's father played by Kevin Kline is an over the top 80s has-been sitcom star that makes you wince a little with his behavior and antics, but can make for some funny viewing.
The plot as you know is very simple and explores the subject of "can two people have sex without strings?" Not one to ruin the movie, but it is a romantic comedy so you can guess for yourself what happens. This movie explores the hurt and heartache of each of them going through the pain of trying to make this type of "relationship" work. Can someone really have a sexual relationship without emotional commitment?
All in all, I watch romantic comedies with no expectation whatsoever so when they are funny and keep me entertained, as this one did, they tend to get my thumbs up. Go see it.